April 2019
May 13, 2019 — The median sales price of a home in the Baltimore Metro region reached $275,000 last month according the latest Bright MLS statistics, the highest April price in a decade. This price is 4.2% ($11,000) greater than last month's median sales price of $264,000.
Median townhouse prices increased 6.9% to 216,500; condo prices appreciated 3.4% to $215,000; and single-family detached home prices gained .8% to land at $347,750 for the month. April marks the third consecutive year of steady price appreciation.
At the same time, April was the eighth consecutive month of declining year-over-year closed sales. In addition, sales volume decreased 2.6% from last year. However, new pending sales have risen 3.3% since last April, and new listings have increased 4.9% over the same period.
April was the seventh consecutive month of year-over-year inventory gains, yet the area's housing inventory still remains at historically low levels.
While Howard County continues to boast the region's highest median sales price of $390,000, this number represents a 9.3% decline compared to last April's median sales price. Baltimore continues to be the most affordable area in the region with a median sales price of $150.900, an increase of 7.9% over April 2018.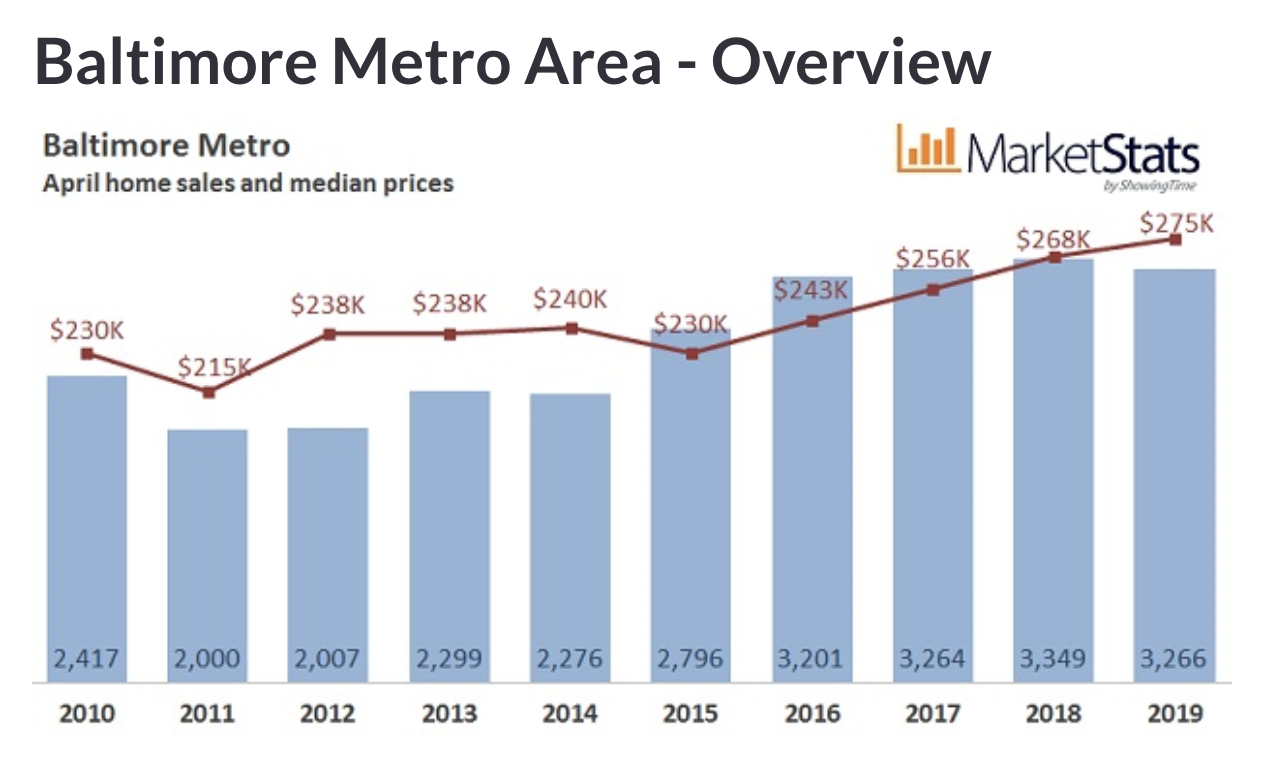 The Baltimore Metro area median sales price set a new April record, rising 2.7% to $275,000 compared to last year, capping nearly three straight years of price appreciation.
Sales volume of more than $1 billion was down 2.6% from last year.
Closed sales of 3,266 were down 2.5% compared to last year and year-over-year closed sales have now decreased for eight consecutive months.
New pending sales of 4,868 were, up 3.3% from last April.
New listings rose by 4.9% to 6,262, the second consecutive month of year-over-year increases.
There were 9,271 active listings at the end of April, up 2.7% from last year. This is the seventh consecutive month of increases in year-over-year inventories but is still the second lowest level of April inventories of the past decade.
The April average percentage of original list price received at sale was 96.5%, a slight decline from last year's 96.6%.