December 2019 Housing Market Update
January 14, 2020 – New December price record of $278,000 for median sales price, rose 9.0% in the Baltimore Metro area.
Baltimore Metro Area – Overview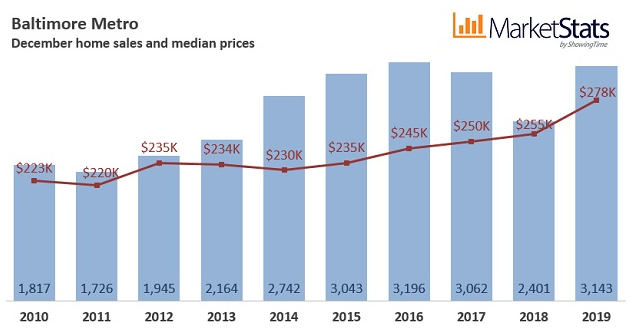 The Baltimore Metro area median sales price rose 9.0% to $278,000 to set a new December price record. The area has seen steady and solid price appreciation for the last four years.
Sales volume of over $1 billion was up 41.7% from last year.
Closed sales compared to last year were up significantly for the fourth month in a row, rising 30.9% to 3,143.
New pending sales were up for the sixth month in a row, gaining 10.7% to 2,752 and were at the highest December level of the decade.
New listings were down 4.6% to 2,441 and resulting active inventory levels compared to last year declined by 15.2% to just 7,413, the lowest overall monthly level of the past ten years.
The average percentage of original list price received at sale was 94.5%, up significantly from last December's 92.2%. This was the highest December level in ten years.
Median days-on-market of 33 are down from last December's 37 days and at the lowest December level of the last 10 years.
The Baltimore Metro Area housing market includes the City of Baltimore, Anne Arundel County, Baltimore County, Carroll County, Harford County, and Howard County in Maryland.
Source: MarketStats by ShowingTime based on December 2019 Bright MLS housing data