January 2019 Housing Market Update
February 10, 2019 — In January, the median sales price of a home in Baltimore Metro reached the highest January price of the decade, coming in at $249,900, a 4.6% ($10,900) increase over last year but down 2% ($5,100) from last month. Year over year, townhouse prices increased 9% to $179,000, condo prices increased 3.1% to $200,000, and single-family detached homes increased 2.6% to $320,250.
Prices remain well above the five-year average of $230,770 and the ten-year average of $220,847. Baltimore Metro has experienced nearly three years of continual price appreciation.
January marked the fifth consecutive month of declined closed sales. However, while inventories have grown, levels remain near record lows.
Baltimore City remains the most affordable area in the Baltimore Metro region, with a January median sales price of $114,000, up an impressive 28.1% from last January's price of $89,000. This was the largest increase in the region. (See second chart, below, for January 2018 & 2019 median price comparisons by county.)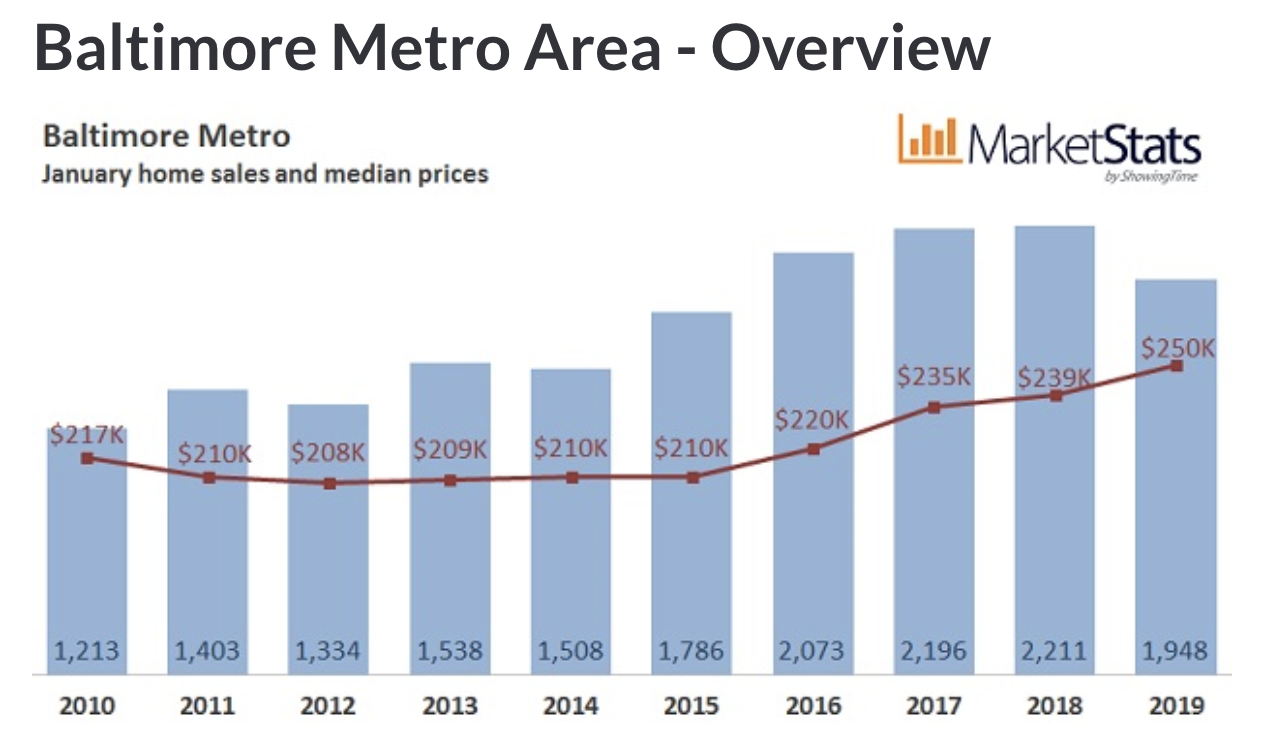 The Baltimore Metro area median sales price rose 4.6% to $249,900 compared to last year, the highest January price level of the decade and the largest year-over-year gain since last September. The Baltimore Metro market has experienced nearly three years of continuing price appreciation.

Sales volume of more than $560 million was down 7.5% from last year.

This was the fifth consecutive month of declining year-over-year closed sales. At 1,948, sales were down 11.9% compared to last year.

New pending sales compared to last year were nearly flat at 3,138.

New listings increased by 7.3% compared to last year to 3,683 and were at the highest January level of the decade.

The 8,089 active listings at the end of January were up 3.7% from last year, the fourth month in a row that inventory levels have increased and the second month in a row that inventory gains have been approaching 4%. However, inventory levels remain well below the 5- and 10-year averages.

The average percentage of original list price received at sale in January was 94.4%, a slight dip from last year's 94.6% and last month's 94.8%.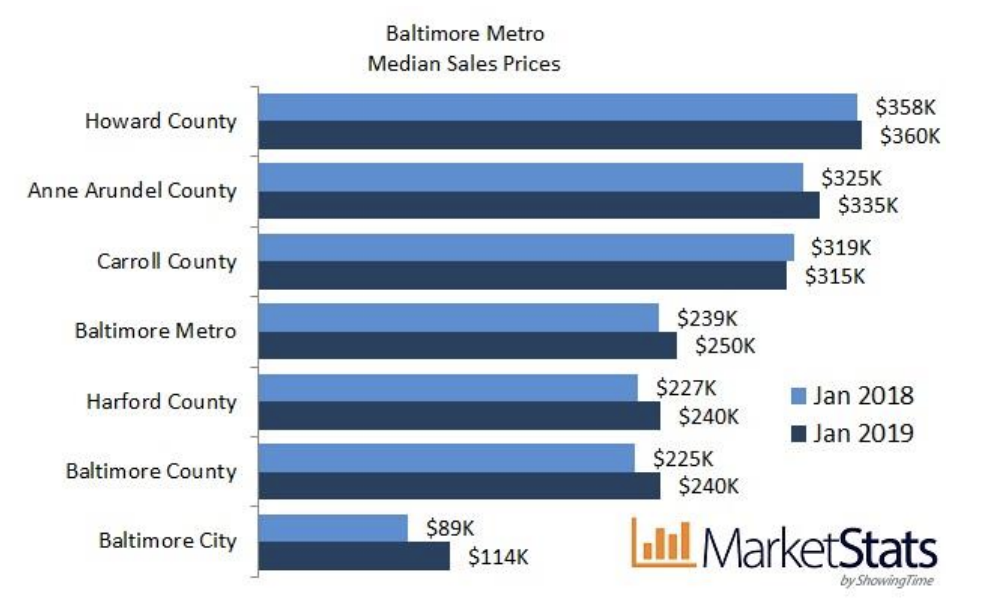 The Baltimore Metro Area housing market includes the City of Baltimore, Anne Arundel County, Baltimore County, Carroll County, Harford County, and Howard County in Maryland.
Source: MarketStats by ShowingTime based on January 2019 Bright MLS housing data